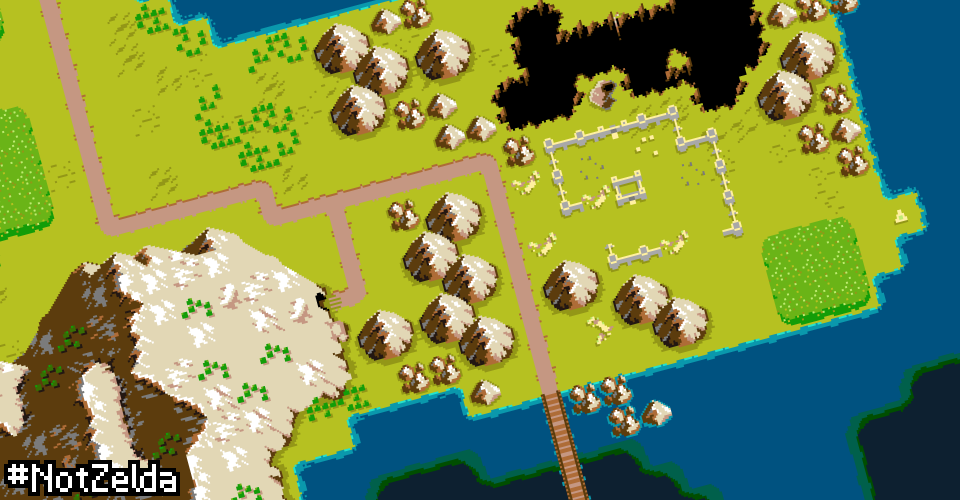 #NotZelda2 Sideview Adventure Tiles
A downloadable asset pack
#NotZelda2 Sideview Adventure Tiles is a complete package of thousands of unique tiles, sprites, and fonts to easily create your own sideview adventure. This is meant to easily build levels for your own Platformer, Roguelike, RPG, City Builder, Strategy Game, or anything inbetween. This is a huge companion piece to the original #NotZelda Overhead Adventure Tileset.




Features:
Thousands of unique tiles
Overworld overhead tileset to make a sprawling world including dynamic mountains and oceans including grass, desert, and snow biomes
Dungeons tileset with switches, elevators, ramps, and decorations
Forest, Desert, Town, and Cave tiles including dynamic foliage
Unique outdoor graphics for Day and Night cycles
Knight, Archer, and Lizard Man sprites in various palettes

Walking, Crouched, Running, Sprinting, and Wall Slides, and Ledge Grabs
Bows, Swords, and Flail attacks in 4 different directions
All amounting to over one hundred frames of character animation

Four extra monsters to populate your worlds
Literally hundreds of items, equipment, menu tiles, and more for highly customizable adventures
Controller Prompts, Fonts, and more special FX all included!
Example Tiled Map Editor files
TLDR every sprite or tile you would need to make your own #NotZelda2 game is included in this pack (and if it's not please comment below)!
I would like to continue expanding this asset set to accommodate all kinds of adventures, so please leave comments and concerns below. And if this works out, I'll be looking into doing more #Not packs (maybe Castlevania? Mario? Final Fantasy? Double Dragon?).
Licensing:
#NotZelda Overhead Adventure is distributed under the Creative Commons Attribution-ShareAlike 4.0 International license. This license allows adaptations of your work to be shared under the same license, and allows your work to be used commercially, as long as it's attributed to LUNARSIGNALS. This is a Free Culture License.
Other Assets You May Be Interested In:
Purchase
In order to download this asset pack you must purchase it at or above the minimum price of $20 USD. You will get access to the following files:
Sideview Adventure.zip
2 MB
Comments
Log in with itch.io to leave a comment.
I've been planning for a couple of weeks now to make a Zelda 2 clone and needed sprite work to make it happen and I think I finally found it. Will be purchasing here in a couple days. Looks amazing!
Thanks for the feedback. What kind of assets do you mean when you say Castlevania? Whips or...?
Jesus this is beautiful. Thank you for your amazing work! Your Z1 art has built me a happy slappy prototype. You can follow me on instagram @joneslearnsunity
Your prototype looks great! I'm really happy you found use for my work. Please feel free to post more about things you make :)
These look great - and I love Zelda 2. I'll gladly purchase any other #Not pack you make. :)
Oh, and the example TMX files are appreciated!
Thanks so much! There's the original #NotZelda here, too: